A British Joke, in Turkish...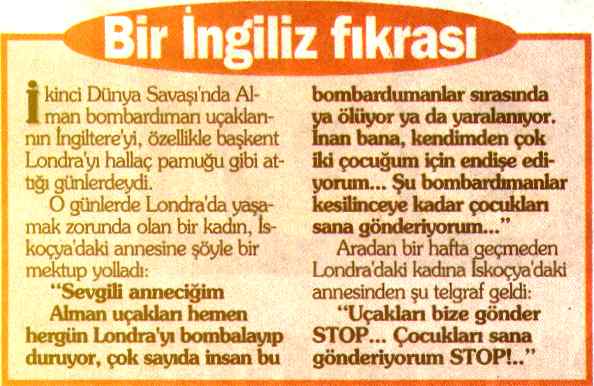 It was during the aerial bombing of Britain during WW II, in the days when the capital city London, especially, was being laid to waste.
In those days, a woman who had to live in London sent a letter to her mother in Scotland that went like this:
"Dear Mummy, German planes continue bombing London nearly every day, and a lot of people are either being killed or wounded during the bombing. Believe me, I'm very worried about my two children...So, I'm [now] sending the children to you until the bombing stops."
Not even a week had passed when the woman received this telegram from her mother in Scotland:
"Send the war planes to us STOP...
I'm sending the children [back] to you STOP!.."
Thanks to
Gözcü Gazetesi
Pazar Eglencesi
by Erdogan TokmakçIoglu
7 October 2001