This southern Mediterranean coastal province is not just famous for its 'food kitchen', of course. It's also notable as one of Turkey's more prosperous regions -- deriving its wealth naturally from the agricultural produce of the Çukurova Plain. And, its namesake capital is Turkey's fourth largest city, at just over a million in population.
Nestled neatly on the banks of the Seyhan River, Adana is surrounded by gardens and citrus groves -- that give it a relaxed "country in the city" feeling. An ancient legend says that Adanos, son of the god Uranus, founded it originally. But another (more 'historically verifiable') source identifies it with the Hittite king Asitawadda, sometime around 1000 BC. And if you doubt such an early origin, there's always the stone bridge south of the main boulevard that was built over the Seyhan River during the reign of the Emperor Hadrian (117-138 AD) -- which is still in use.
Much more recently,
Adana province has been host to
the NATO air-base at Incirlik --
so frequently in the news since
Saddam Hussein began 'acting up' against
western interests in the Middle-East.
Hadrian, a true stoic, once advised, "check impulse, suppress appetite." But that idea gets short shrift in the modern-day Adana 'food kitchen' -- which feeds its populace generously on meat, grain, and milk-based products. On the one hand, that means plenty of beef, chicken, and bulgur wheat dishes. On the other, it means lots of
yogurt, ayran, cheese, and milk itself.
The people of this region have a passion for spicy hot food. By far its best-known dish is the namesake Adana Kebab -- a hot, grilled meat specialty. And when the cooking of it begins, guests gather round the 'mangal' grill to engage in pleasant conversation.
---
---
---
Adana Kebab -- simple, spicy, scrumptious
(Preparation time 10 minutes, cooking time 10 minutes.)
---
Ingredients
--
Per serving
200 gr of fresh lamb meat
20 gr of lamb tail fat
plenty of black pepper
salt, to taste
spicy green peppers
tomatoes, quartered
---
Preparation
Chop the lamb meat by hand -- to a coarsely 'ground' texture. Chop the tail fat the same way and knead it into the meat, adding the black pepper.
Mould the resulting mixture onto a metal skewer, making a long flat strip, about 2.5 cm (~ one inch) wide. Grill it over a charcoal flame, together with the tomato quarters and green peppers. At the last cooking stage,
add the salt to the meat surfaces.
Serve the grilled meat, tomato, and green peppers on an oblong platter surrounded by chopped parsley and fine onion slivers seasoned with sumac. If you like your meal extra spicy, sprinkle on some pul biber (hot red pepper flakes). If you'd like to cool it down, have some yogurt handy. And don't forget the lavas or pide (pita) bread, always at the ready.
Right click to 'View' or 'Zoom' image enlargement...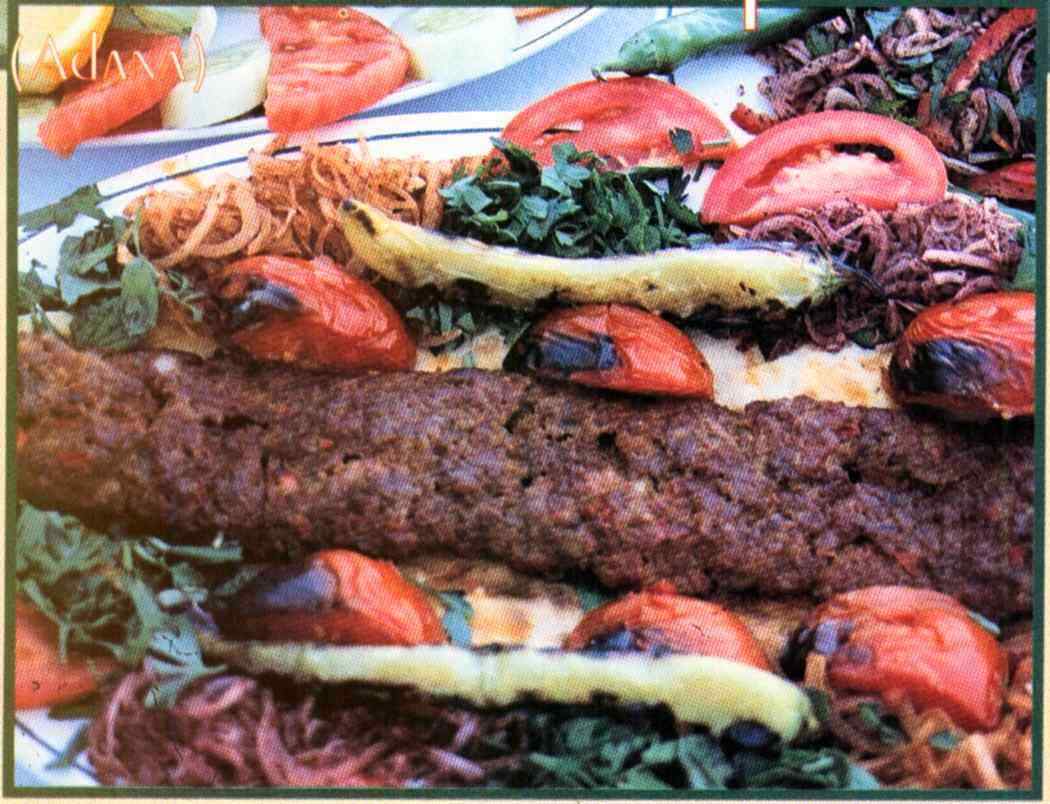 Thanks to
Lezzet -- Yöre Yemekleri Ansiklopedisi (Hürriyet Dergisi Grubu)
for the yummy image...