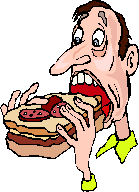 Shish enough, and more...


It was only a few months after I'd opened our Turkish restaurant in one of the trendiest streets of Brisbane, Australia. One day, a well-dressed man entered and asked what speciality foods we had on offer.
I tried to explain a little about Turkish food and how healthy and delicious it is. And I was pleased when, in response, he made a substantial 'double order' -- including dips, Turkish flat bread, salads, main meals, deserts, etc.
And then, he proceeded to clean up the plates I served -- all by himself!! You can guess that this made me very happy (an indication of customer satisfaction to me).
He asked for bill and paid it. But, as he was leaving he turned to me said:
"I'm from South Africa and when I was a child, my mum and I went to Turkey. With our limited knowledge of Turkish, we ate Shish Kebab in most of the places we visited -- because it seemed to us a very simple and tasty meal.
We stayed two months in Turkey and we ate Shish Kebab almost every day. Slowly, despite its delicious flavour, we became fed up with it. And, by the time our journey came to its end, I didn't want to hear the name Shish Kebab ever again -- let alone ever eat it again -- for the rest of my life.
My dad was living in Germany at the time and, after our Turkish vacation was complete, my mum and I paid him a short visit before we returned to South Africa. He met us at the airport, and took us to his place.
After a happy exchange of pleasantries, Dad said,
'Guess what... There's a new Turkish Restaurant in town, and I made a booking for tonight for us. They have a superb dish called Shish Kebab -- and I made a special order of it for us...'
Mum and I looked at each other and smiled a sickly smile -- and then laughed until we cried..."
---
"That was 25-30 years ago," my South African customer told me.
"I was thinking about ordering Shish Kebab today in your restaurant too -- for old times sake. But unfortunately, or fortunately, I didn't see it on the menu.
MD, a Turkish-Australian friend (Oct '00)